BRAKETEXT SYSTEM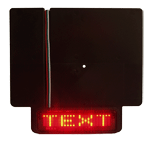 This Product adds an extra dimension to your Bike. It allows messages to be pre programmed and displayed. It displays clear precise instructions, you can input what you require. It doubles up as an extra brake light too.
I have had this system for a few years and it has been a great aide, notifying other road users that there is a few bikes in convoy ie;whilst training new riders, and when touring .
I also purchased a two way switch that connects to the system allowing you to alternate between two set display readings, this saves you having to stop and change between your preset messages.